---
4 Types Of Skip Bins To Know Before Hiring
---
---
---
Overview
---
Are you planning a big cleanup or renovation project but feeling overwhelmed by the mountain of waste and debris it will generate?
Skip bins could be your saving grace! These large, sturdy containers are a staple for waste disposal, making the process smoother and more efficient. However, before you rush to hire the first skip bin you find, it's crucial to understand the different types available and how they suit your specific needs.
In this comprehensive guide, we'll walk you through the four essential skip Bins Adelaide, helping you make an informed decision that simplifies your waste management and contributes to a greener, more sustainable environment.
Get ready to dive into the world of skip bins and take the stress out of your next cleanup project!
Morrel Skip Bins
Morrel skip bins are the go-to choice for disposing of waste, whether you're a business or a homeowner. These bins come in a range of sizes, starting at 2 cubic meters and going up to 15 cubic meters. Compared to hook-lift skips, they can be identified by their shorter lengths and taller side walls. The advantage of these bins is that they require no more space than a typical car parking spot.
Morrel bins in Adelaide are hoisted using chains attached to hydraulic arms and then gently placed back onto the truck. If you want a robust and reliable skip bin solution, Morrel bins are an excellent choice.
Hook Lift Skip Bins
Hook lift Skip bins are characterized by their loading method onto the truck. These bins are lifted and placed on the truck's rear using a robust hydraulic hook. They feature a rectangular shape with a spacious opening, suitable for tasks that necessitate the use of a bobcat for precise positioning.
These bins come in various sizes, ranging from 4 to 30 cubic meters. They are commonly used in commercial and industrial waste disposal. However, they can also be beneficial for substantial domestic waste removal, especially in cases like handling the belongings of deceased estates or preparing a property for sale. In short, they are useful for removing a large amount of waste.
Mobile Skip Bins
A mobile skip bin offers an ideal solution for challenging locations, such as carports, inside garages, or underground car parking. If you need to place a skip bin on council property, you'll typically require a permit from your local council. However, when using a mobile skip, there's no need for a permit since it's a trailer registered for road use. This means the only cost you'll bear is renting the mobile bin.
Mobile skip bins are equipped with lockable lids to deter others from depositing different types of waste in them. Opting for this skip bin is a cost-effective choice compared to a standalone skip bin because it can be conveniently relocated to your waste source. They are available in two sizes: 3 and 4 cubic meters. Keep in mind that all mobile skips have weight limits to ensure safe transportation. The only drawback of these bins is their limited capacity for waste storage.
Skip Bags
Skip bags are quite different from traditional skip bins. In contrast to skip bins, which are typically rented for a one-time use, skip bags are designed for extended rental periods. They consist of a wool bale with a frame instead of a solid steel bin structure.
When you hire a skip bag, it will be delivered to your location, and waste removal will occur periodically. The skip bag can remain on-site for as long as you require.
Skip bags offer several advantages, including:
Versatile Waste Disposal: Skip bags can accommodate a wide range of waste types.
Multiple Sizes: Skip bags are available in three sizes: 1 cubic meter, two cubic meters, and three cubic meters.
No Time Restrictions: You purchase skip bags outright and can keep them without time constraints.
Lightweight and user-friendly: Skip bags are easy to handle and transport due to their lightweight design.
Space-efficient: They are suitable for use in compact areas where traditional skip bins may not fit.
Flexible Usage Options: Skip bags have various applications beyond waste disposal.
Surface-Friendly: Unlike traditional skip bins, skip bags do not cause damage to concrete driveways or paths.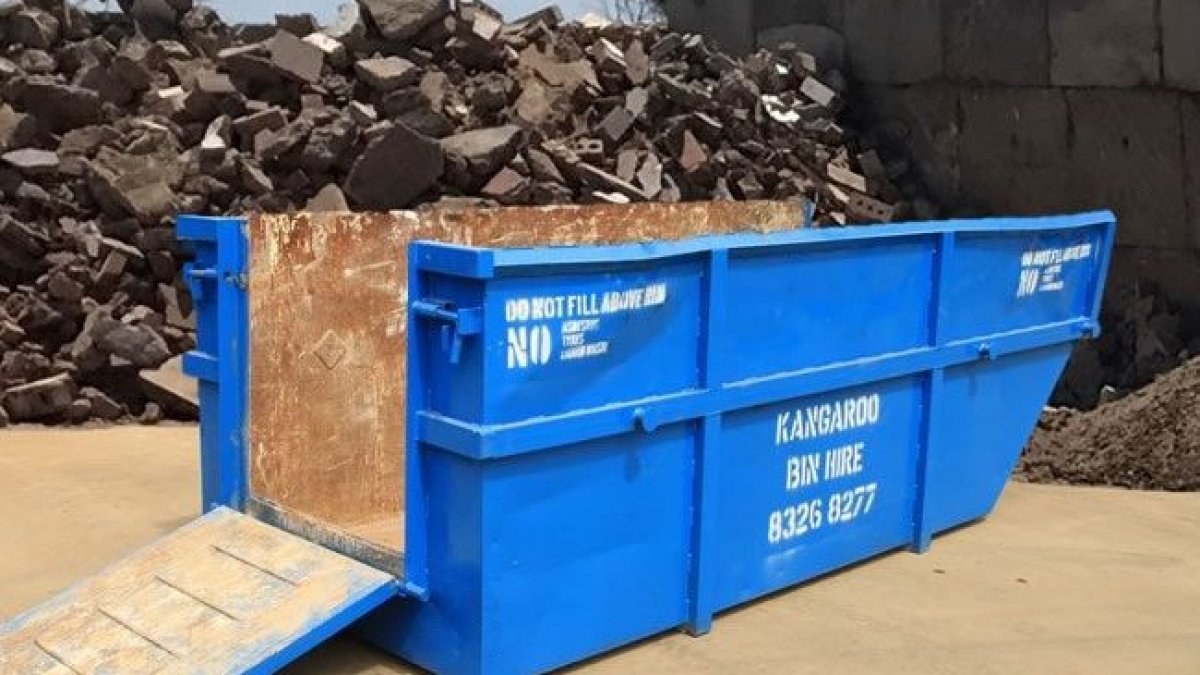 Making the Right Choice
Understanding the various types of skip bins in Adelaide is the key to making your waste disposal project a breeze. From the versatile and popular hook-lift bins to the compact but efficient mobile skips, each type serves a unique purpose.
By knowing your options, you can choose the perfect skip bin to suit your specific needs, save time, and minimize costs. So, whether you're tackling a home renovation, a landscaping project, or a construction site cleanup, remember that the right skip bin can make all the difference in ensuring a smooth and eco-friendly waste management process.
---
Related Posts
7 Factors Impacting Skip Bin Hire Costs: A Comprehensive Guide
How to Estimate Hard Rubbish Removal Cost: Your Comprehensive Guide
6 Benefits of Sustainable Waste Management: A Comprehensive View
---